Updated 7/1/12 with Idaho Rally
The Car

This jump remains this car's claim to fame. There's a shaky video of the jump favorited on my YouTube channel.
Two years later I bought the car and offered my own tribute: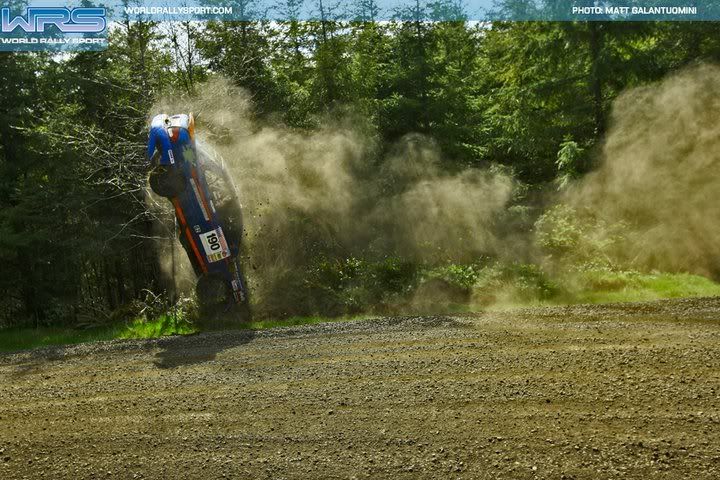 The car was pretty nackered having been through several years of rallys and some big offs, so we did some body work and made some aesthetic changes before Oregon Trail this May:
We haven't gotten the chance to get very many good exterior shots of the car. It got finished the morning of the rally, so it was a ways down our list of concern. I can update w/ those in the future though, as well as pics of the interior.
At one point the car was an '03 Spec V, and through the years development has weeded out most of the weak points in exchange for beefier counterparts. That being said, a surprising amount of stuff on the car remains OEM. And not just the little stuff. It's pushing 50k miles, with over 5 years of rallys on it and is stilling running on the original motor & transmission. The majority of the drive train remains untouched, partly due to it's strength, partly due to needing to be able to find replacement parts quickly and inexpensively. Because stuff will always break on every rally, so finding cheap spares can be a huge cost saver. But mechanically the car has a finishing rate as good as any of the other 2wd rally cars. Most of the development was done prior to me purchasing the car, so here's the run down of mods from the previous owner:
-Custom rally spec cage
-Log booked in 2006 through Rally America
-Balance shafts removed
-WeaponR Cold Air intake
-DC Tri-Y high torque Headers
-High-flow exhaust (I think he just meant broken)
-Front suspension is Allwheelsdriven custom coil overs with Subaru GroupN top hats in fully stitch welded strut towers, H&R front springs with Bilstein 40mil inserts
-Rear suspension is 10inch travel with Race Runner 20x2.5 dual rate remote reservoir shocks and fully articulated modified tri-link axle beam, 90 over 150lb. springs
-1/4inch aluminum skid plate in front with full HDPE under body protection
-EBC Yellowstuff brake pads on slotted rotors
-Felted dash
-Blacked out cage in drivers view
-Roof vent
-Custom door panels with electric windows still operable
-Sparco Rev drivers seat
-Momo Co-drivers seat set very low for better center of gravity
-G-force belts FIA rated
-Terratrip computer with all connection soldered into ECU for accurate milage
-TerraPhone pro com-set with camera input Noise suppressor put in line to eliminate "TerraPhone buzz" very quiet and clear
-Transit headphones included
-Over head light and co-driver light for night stages
-Co-driver Sparco foot rest
-Lexan rear windows
-Upright spare holder for quick changes, jerry can bolted in for storage
-Custom light bar w 2 pencils & 2 fogs
-Track bar
There's lots of stuff everywhere you look, but those are the biggies.
Our Videos
2012 Idaho Rally
Based out of Boise, this is a smaller event, but it's run on what many people think are the best roads in the entire country. There were I think 40 entrants this year, and despite our steering issues that have haunted us for quite some time returning (see:wheel sawing), and sheered suspension bolt (see:high speed weaving), we ended up about halfway up the field dominated by higher power awd cars. This rally sadly came to an end when we hung the car over the edge of the road and got stuck. Happily, we were only one stage from the end, so we still had a lot of fun before it happened.
HD Version on YouTube
http://www.youtube.com/watch?v=4R9LscIMSiA
2012 Oregon Trail Rally
The Oregon Trail Rally, based out of Portland, OR, is the 3rd rally of the 6 round Rally America national championship. The rally america national championship is as big as rallying gets in North America, and a number of manufacturer supported teams, and the best cars in North America show up. There were over 70 entrants this year, with over half the field being awd, and 18 entrants in my class, naturally aspirated 2wd. The rally started out Friday night with some spectator friendly stages around Portland International raceway, these are the stages in the video. On the very first stage, we caught the car that was started in front of us on stage (not supposed to happen, and not sure how they got put in front of us), and it screwed up the timing system. Had we been given the correct time, we would've been in the top 30 after Friday night, down on power relative to the other cars, primarily on tarmac, on knobby gravel tires. We went off the road early the next day, but were able to get the car fixed and came back Sunday. Sunday we ended up 3rd in class, with a stage win.
HD Version on the YouTubes
2011 Mount Hood Rally
The Mt Hood rally, based out of Hood River, OR, isn't a big national rally, but usually pulls a lot of the best teams on the west coast. There were over 30 entrants, and without the time lost from our little foray into a ditch seen in the video, we would've broken into the top 10 overall.
HD Version on YouTube
My brand, Rally190, has been developed over the last couple years and relies on people like YOU, to support what we do and prove that rallying is commercially viable even when it isn't Block or Pastrana behind the wheel. So please take the time to get hooked up with us over social media. Facebook, twitter, and youtube for now. I use Facebook to put up lots of stuff that doesn't make the final cut, or just other media I was playing around with. That being said here's our most recent video, from Oregon Trail Rally, highlighting the spectator friendly stages centered around Portland International Raceway:
Rally190 | Facebook
Rally190 (@Rally190) on Twitter
rally190productions - YouTube
I appreciate the support of all my brothers on b15u! I have learned a lot and met some cool people in my short time here.
Other Random Rally Fun!
My favorite rally video ever
What is rally?
Ari Vatanen Pikes Peak Hill Climb
The next generation of motorsports, because the NASCAR fans aren't getting any younger. See RallyX at 4:10