Discussion Starter
·
#1
·
So this isn't a racing spec or engine mod build log I'm doing a full car audio install including modified panels. This is my first time ever attempting to do anything like this.
The build:
Hertz Dieci 6.5 inch components full active front
Hertz Dieci 87.3 coaxials custom kick panels
Hertz Dieci 6.5 coaxials rear deck
4 DC Audio Level 1 12's dual 2 ohm subwoofers
Clarion EQ
Dayton DSP
Head unit undecided
2 Taramps 400x4
Taramps Bass 1200
Complete sound deadening
Wiring/Electrical: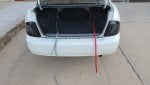 Installed a 250 amp I powered alternator and a 60 amp hour AGM battery under the hood. I ran 2/0 welding cable from the alternator to the battery and then to the rear of the car. I did the big 3, fused shortly after the alternator and shortly after the battery.
I also ran speed wire from the front door panels to the rear which has seven 14 gauge wires contained within the gray jacket.