Mod List:
Engine
Proline built QR25DE
Wiseco 9.5:1 forged pistons, Swaintech coated
2JR forged H-beam rods
B16 fully-counterweighted SpecV crankshaft
ATI Superdamper
JWT BSR
JWT C1 cams
2JR springs
ARP head/main studs, ARP rod bolts
AJUSA headgasket
ACL rods bearings
OEM main bearings
WPC treated pistons, wristpins, rings, and rod bearings
Turbo setup
Treadstone front-facing tubular manifold
Treadstone custom 3" downpipe
Precision Turbo 5858 ballbearing turbo with ported "S" compressor housing
Tial MVR wastegate w/dump tube
Tial Q bov
Custom 3" intercooler piping, wrinkle black powdercoat
Treadstone TR1045 intercooler
Custom 3-row half-radiator
Misc. engine
FIC 525cc injectors
Walbro 255lph fuel pump
Stromung 3" catback exhaust w/Aero 14" resonator
Ported and polished intake manifold by DPR Racing, VQ tb flange
VQ35DE 70mm throttle body
Mishimoto silicone radiator hoses
Stant low temp t-stats (170*/195*)
SPAL 14" 1800cfm radiator fan
Hondata intake manifold gasket
Modified valve cover with drilled out PCV and valve vent
ActiveTuning ground wires
Innovate LC-1 wideband
SAFCII for fun
Uprev tuned
Brisk EOR15LGS spark plugs
Suspension
TDMi drag spec coilovers, 10k
UltraRacing solid strut bar
UltraRacing room bar
Nismo front sway bar w/ES endlink bushings
Nismo rear sway bar @ full stiff
2J control arms, SuperPro 95 duro bushings
Truax Motorsports subframe connectors
Fully boxed front frame rails (welded to firewall)
2JR 10mm anti-lift kit
2JR offset delrin trailing arm bushings
2JR front delrin motor mount
FI-R rear nylatron motor mount
FI-R aluminum/nylatron crossmember inserts
Transmission
Clutchmasters 725 series twin disk clutch
Clutchmasters aluminum flywheel
ARP flywheel bolts
Prothane tranny mount with Armored's delrin spacers
Techna-fit SS clutch line
2JR short shifter
2JR Turcite X shifter bushings
Redline Heavy Shockproof tranny fluid
Wheels and Brakes
Evo VIII Brembo calipers, StopTech Street pads (street)
350Z Track 12.75" slotted rotors (street, front)
Stock calipers, Maxima rotors, Hawk HPS pads (drag)
Agency Power conversion lines
A32 Maxima rear rotors and brackets (rear)
Rays 57DR 17x9 +38 (street)
Nitto NT-01 255/40/17 (front)
Nankang NS-2R 255/40/17 (rear)
Rota Grid concave 15x8 +20 (drag)
M&H Racemaster slicks 24.5x8.5x15 (drag front)
TDMi 55mm studs all around
Muteki SR48 lugnuts
Exterior
Full 3M Matte silver wrap, gloss black roof
Nismo front lip
Nismo rear spoiler
C-mod grille
On-Star antenna
Sharkey carbon fiber roof spoiler
debadged
50% tint front, 35% rear
QuikLatch minis
Interior
Fully blacked out headliner/pillars
Redlinegoods.com leather shift boot, e-brake boot, and center console cover
Angel Eye gauge cluster/HVAC overlays
Nismo floor mats w/ 2JR floor plate
Nismo GT shift knob
Altima SE-R pedals
Autometer Cobalt boost gauge in sharkey pod
Carbon fiber vent delete with DB AFR gauge
Valentine 1 radar detector
Weight Reduction
Removed stereo system and wiring
Removed A/C system
Removed windshield washer tank and lines
Fully gutted trunk (jack, spare, carpeting, sound deadener)
Removed rear seatbelts/assorted brackets
Removed passenger airbag
Removed A/C, foglight relays and wiring
Odyssey PC680 14lb battery
Bought car new in October of '04 and started modding as soon as I hit theVboard, lol.
Here is is early '06, already installed mmi's, sportlines, rims, Nismo LTB and CAI, and Stromung exhaust.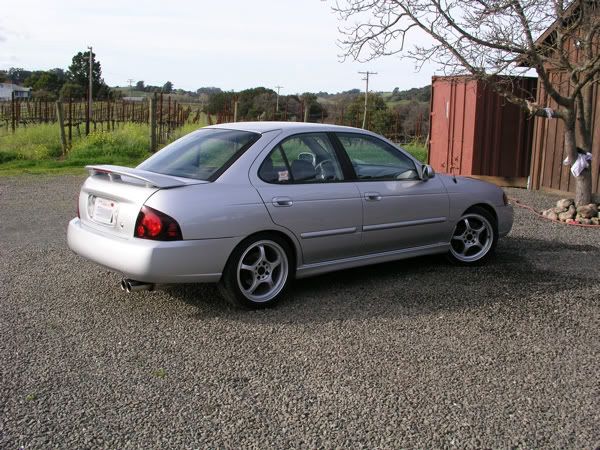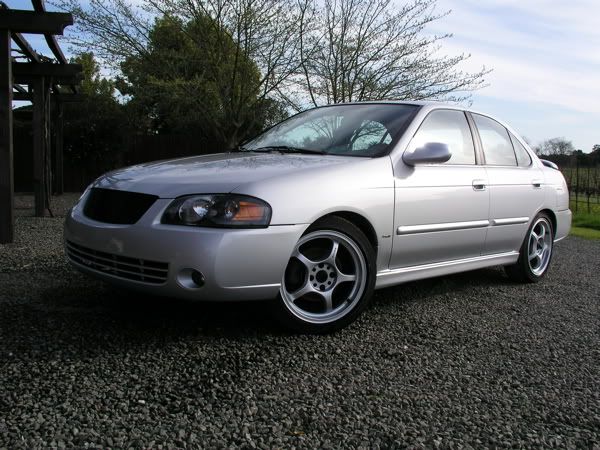 Really ugly trunk bar, but it was free. 1.25" stainless steel tubing.
Welding TMS chassis braces. Best chassis/suspension mod evar.
JIC FLT-A1's vs. stockers w/sportlines. Second best suspension mod.
Jimmy bar and midpipe shot.
Keeping the interior clean.
The wheels.
Pnp manifold. Was shaved and painted with black high temp paint. Also installed hondata intake manifold gasket with it.
Here is how the car sat a few months ago before my accident:
Catch can is hooked up wrong BTW, don't copy me, lol.
The accident: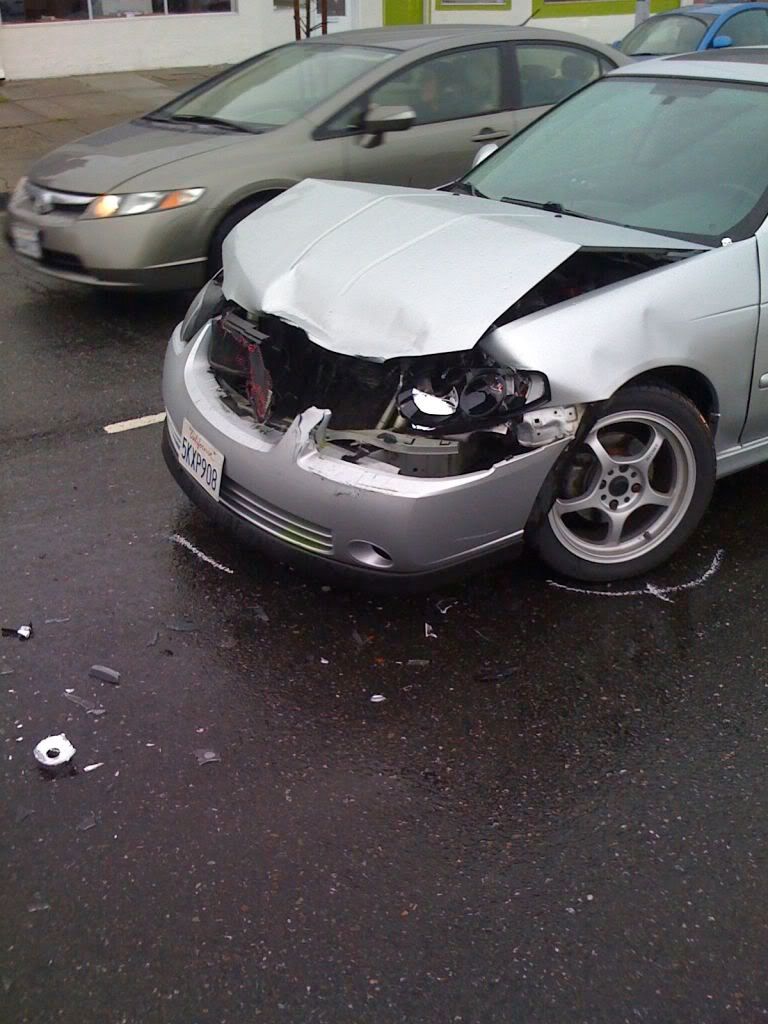 I've been working on the car for the past couple of weeks, but progess is kind of slow because of work, not having reliable transportation, etc. But it beats paying a body shop 4x the amount to fix it (no collision coverage FTW).
Taking it apart: