2002 Spec V - 142k miles, head was rebuilt by Nissan at ~60k so ~82k on this valvetrain
The girlfriend drove it last and said she didn't notice anything out of the ordinary. Parked it and it won't start back up again, cranks but won't start. New plugs, VC gasket, MAF, and crank and cam sensors in January of this year. I understand that cam/crank sensors can go back pretty easily though. Continues coming up with a code p1111 the VTC solenoid, even if I clear codes it will come back as soon as I turn the key ... this guy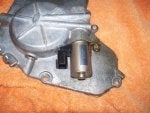 Has spark, fuel, fuses good, battery charged up, compression dry reads 150-150-90-150, that 90 didn't come up at all with a capful of oil. No crosstalk of coolant or oil, doesn't run so I'm not sure if there's smoke.
Have I been butterflied? I don't see any valve bits or screw bits in the cylinder and the spark plug looks fine.
Can a bad VTC solenoid actually cause low compression? and on one cylinder only? where do I get one? anyone have the part number?
Once I get some help to move it over to the shop I'll be tearing into it to see what I can find, any suggestions of what to look for?
Thanks