Had an easy night at work, so I decided to drive the spec on the truck scales. Pretty happy with the results. I'll spell out some specifics first then do some calculations.
03 sentra se-r spec v
non abs
non sunroof
gutted trunk w/ custom 10" sub, box, and amp
removed rear bumper
17lb. BuddyClub P1 sf wheels
~1/2 tank of gas
empty windsheild washer tank, a gal. of water is 8.36 lbs. for the record.
various brackets, bolts, and panels removed (i.e. evap canister shield, front bottom splash guards, exhuast heat shields., etc.)
full interior plus a forward facing car seat.
Gross weight=2,660lbs. or 1,207kgs.
Now when I hit the 1/8mi track soon I will remove the sound system and rear seats. I will attempt to weigh it again to see my actual track weight.
Also, the gas will be less as well. Now the weight of fuel is dependant on 2 things. 1) the grade of gas and 2) the temperature. According to the U.S. department of Energy, gas typically is around 6.2-6.5 lbs. per gallon, ethanol weighs 6.59 lbs. The temperature will cause the gas to be more dense at colder temperatures and less dense with higher temperatures. 72* is the standard temp for most of the calculations I found.
So I am going to say at a little more than half a tank I should be at about 7.6 gal. (13.2/2=6.6 gal is half a tank, +1 gallon=7.6) and the temp when I track will surely be in the 90's because it's the dirty south and IT'S HOT! So I will elect to use a lower fuel weight of 6.2 lbs. I will have to have some gas for the track so I will assume I can run about 1 gallon in the tank and get plenty of runs plus make it across the street when I'm done to fuel up.
So 7.6-1=6.6 gallons x 6.2 lbs. =40.92 lbs. I can shed by running my tank empty.
My total weight of 2,660 - 40.92= 2,619.08
Minus the seats and box 2,619.08 - 50 lbs.? = 2,569.08
Pretty decent for a sedan with full interior minus seats.
On the scales
The weight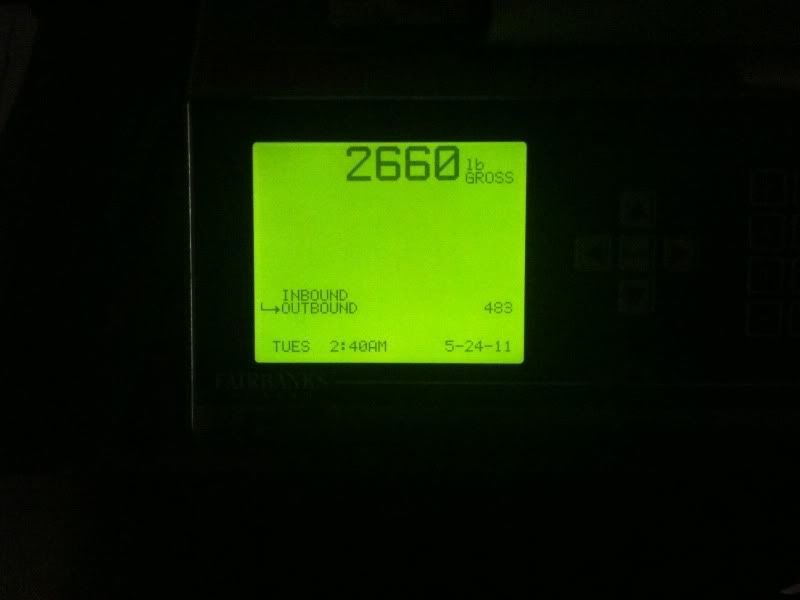 Please post up your weights and setups!